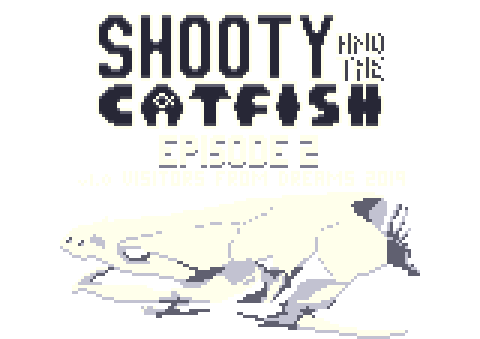 Shooty and the Catfish - Episode 2
A downloadable game for Windows and macOS
Content Warning: This game contains potentially offensive references to suicide.
It is also a sequel (though viewing isnt required) to my 2014 short film Spilt Coffee: https://www.youtube.com/watch?v=jp2HSx_f9WE

Welcome to the world of Nimbin, a world full of strange characters and even stranger characters. Shooty and Zaat are a team dedicated to solving mysterious monster mysteries, for a price of course, as much as they love what they do they cant do it just for the love ya know. In todays episode they are asked to the lovely town of Spectre after a noise complaint comes in from the locals. Sounds like all the noise is coming from the ghosts left haunting the financial district... how very strange. This Episode was largely created as a love letter to OFF and Suits: A Business RPG.
Shooty and the Catfish is an episodic series with 5 episodes in total planned, each of these episodes building on the mechanics and story as they go. With a Game Boy Color inspired aesthetic and an original EDM soundtrack by Jim Hort and a unique resource management based combat system, I hope you enjoy this first entry into this strange new series.
A Game by Visitors From Dreams Music by Jim Hort Additional Music by Agent Ape: https://agentape.bandcamp.com/
Promo Art by Nathan Malone: https://www.artstation.com/zekeyspaceylizard
You can help support the project and further games by following me on Patreon: https://www.patreon.com/VisitorsFromDreams
Download
Click download now to get access to the following files:
SC_EP02_v1.1_OSX.zip
90 MB
SC_EP02_v1.1_WINDOWS.zip
89 MB